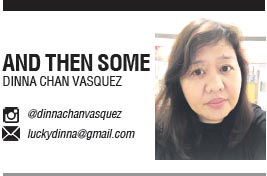 THE biggest news last week in my beauty universe is the announcement of BYS Philippines that Korean actor Park Seo-joon is their new endorser.
The announcement was made to mark the Australian beauty brand's eighth year in the country.
If you have any interest at all in Korean culture, you'd know who Park Seo-joon is. He is the tall and dashing leading man in popular dramas, like Fight For My Way, Hwarang, Itaewon Class and What's Wrong With Secretary Kim?
Park Seo-joon has also made his mark in films, like The Beauty Inside, Midnight Runners and The Divine Fury.
I remember that he was a cast member of the variety show Youn's Kitchen in 2018. One of the guests in the restaurant (which was located in Spain) looked up Park Seo-joon, who was a waiter in the show, on the Internet and he was shocked that the Korean actor had millions of followers on Instagram. I remember the guest telling his companion that PSJ had more followers than his favorite football player.
Park Seo-joon now has over 15 million followers on Instagram and a Gold Play button from YouTube, which means that he has surpassed 1 million subscribers.
In Korea, a male celebrity endorsing a beauty brand is nothing new but here, it's still a novelty.
"BYS has always prided itself on being a relevant brand. Since Hhallyu is at its peak, we've chosen one of the biggest K-drama stars to be the cheerleader of the brand and encourage women to 'Be the Extra in the Ordinary,'" said Angie Goyena of BYS Philippines.
As a celebrity, Park Seo-joon is known for being a gentleman and the ultimate professional. He is also a compassionate individual who has made cash and talent donations to his country's efforts to fight Covid-19. Being professional, on-trend, accessible and customer-oriented are values which BYS Philippines believes in. The beauty brand has remained consistent in creating innovative products and collaborations, which its growing consumer base considers as tools for self-expression.
The partnership with Park Seo-joon promises exciting and extra things lined up in the next few months. I've been told that BYS is coming up with PSJ-themed products, which is a really good idea. If there is anything that fans of Korean stars look for, it's always merchandise.
"I believe the products of BYS Philippines can help you express and bring out your best selves, and allow you to move ahead and Be the Extra in the Ordinary. Extraordinary starts with you and I'm here to cheer you on," said the Korean actor. After all, the difference between ordinary and extraordinary is that little "extra." So go ahead—curl your lashes, work in that highlighter, and wear your boldest lipstick.
BYS is available at Watsons and The SM Store, and online on Amorfia and Lazada.
THE POWER OF NATURE
I HAVE to admit that the concept of self-care brings about feelings of guilt. There is a pandemic and people are dying while I talk about things as frivolous as self-care. For me though, self-care is survival. My skin-care routine is one of the things that has kept me calm and grounded in this pandemic. For other people, it's yoga. For some, it is baking. For others, it's Marie Kondo-ing. For me, it's my skin-care routine.
This routine is something I look forward to twice a day. This and the two showers I take daily are things that are regular and "normal" in these times. Sometimes, I don't eat proper meals but I will most definitely take a shower and do my skin-care routine. Sometimes, I will apply on a bit of makeup but mostly, it's just skin care.
I'm a bit of a skin care and makeup snob in that I hardly use drugstore products. I have this belief that for something to work on my skin, it has to be expensive. Disclaimer: I get a lot of press samples because of my job.
But I'm willing to try anything in the name of beauty, and the Greek brand Bioten is one of them.
Bioten is from a Greek company called Sarantis and the brand DNA is using mostly natural ingredients, doing away with some oft-used chemical compounds and using recyclable and partly recycled packaging. We got to "meet" some of the Greek principals during the brand's virtual launch in the Philippines and one of them was Kelly Erripi, head of the skin-care category.
Erripi said all Bioten products, from the carton packaging to the jars and bottles, contain information about how much of it comes from "ingredients of natural origin" and that the main ingredients are acquired sustainably.
The glass jars, she added, were made from 30 percent recycled material and the boxes were crafted from paper obtained through responsible sources. The products are also vegan-friendly.
Erripi said Bioten was in constant search of natural ingredients to use for its products.  The Skin Moisture Dry/Sensitive Skin range or the "Pink Line" has ingredients that include the highly prized spice saffron, which is a good skin-care ingredient for dry and sensitive skin. Saffron has high concentrations of vitamins and minerals, and is rich in antioxidants that help skin cope with internal and external aggressors.
The "Pink Line"  includes a micellar water cleanser (P349 per 400 ml, P99 per 100 ml), a cleansing milk (P349 per 200 ml) and a face cream (P349 per 50 ml). The Skin Moisture range or "Green Line" for normal/combination skin, meanwhile, has quince, a type of lime, as a main ingredient for its moisturizing properties. The line includes a micellar water cleanser (P349 per 400 ml, P99 per 100 ml), a cleansing gel (P349 per 200 ml) and a face cream (P349 per 50 ml).
Erripi said quince also helps regulate sebum secretion and is also ideal for those with oily skin. I've included the prices of the products (which are available at Watsons and The SM Store, and on Lazada and Amorfia) for reference. Products from the Pink and Green lines have prebiotics and are suitable for ages 20 to 35.  What I have been using for around two weeks now is the Hyaluronic Gold Replumping Antiwrinkle Night Cream. I looked this up on Lazada and it was more than twice the
prices of the creams from the Green and Pink lines.
The night cream, according to Bioten has "three types of hyaluronic acid, 30 million hyaluronic capsules and Golden Proteins that enhance your skin."
I use the Bioten Hyaluronic Gold Replumping Antiwrinkle Night Cream over NIOD RE: Pigment and The Ordinary Marine Hyaluronic. I love all how Bioten works with the two other products. I do wake up to well-moisturized skin and the dry patches on my cheeks and forehead have disappeared. For reference, my skin is normal-combination. I also have the day cream of this, which I have not tried yet.
My friend said Bioten's micellar waters are also must-tries. I'm very excited to explore the brand further.