In the 2018 election, Florida voters by almost a 30-point margin approved Amendment 4, which reinstated voting rights to an estimated 1.4 million Sunshine State residents who had past felony convictions. The state's legislature and governor, however, soon responded by passing a law that required those same residents to pay any outstanding fines, fees and other financial penalties before they could vote again. So much for the message saying one can move on after paying his or her debt to society.
Professional athletes including LeBron James have partnered with the Florida Rights Restoration Coalition (FRRC), which established a "fines and fees" fund to help Floridians pay off any such debts. At last count, the organization says it has received $20 million in the effort to restore those residents' voting rights. In addition to these athletes, Michael Bloomberg has also pledged funds, which in turn has inspired a lawsuit filed to halt that effort.
Among the companies contributing to this campaign is the ViacomCBS portfolio of entertainment brands, more specifically the popular cable channels Comedy Central, MTV and VH1. The channels recently donated $250,000 to the FRCC. That pledge came through last month on National Black Voter Day (September 18), the same day another ViacomCBS media company, BET, partnered with groups including the National Urban League to shine light on the challenges Black Americans across the U.S. face when they seek to exercise their voting rights.
"No American citizen should be forced to choose between putting food on their table or voting. No one should be silenced because they are poor," said Desmond Meade, FRRC's executive director, in a public statement. "While we are just two weeks away from Florida's voter registration deadline, donations like this strengthens our resolve to continue fighting to free the vote in Florida."
ViacomCBS' effort reflects what is increasingly becoming mainstream across corporate America: ensuring all Americans can show up and make their voices heard without confronting any barrier to their voting rights. Whether it's the deployment of technologies, partnering with activist groups, paying workers to help out at the polls, or ensuring they can vote without taking time off, the message is clear: Voting isn't an inconvenience like going to the dentist or picking up a kid from soccer practice — it's a basic right.
On that point, we'd like to remind you that the 3BL Virtual Forum is starting this Thursday, October 8, continuing on the following Thursdays, October 15 and 22. If you are particularly focused on the upcoming November election, you'll definitely not want to miss Thursday the 22nd, as we will have some leaders from ViacomCBS speaking about the "why" and "how" that are driving the company to ensure everyone is heard and can cast their ballots without doubt or fear.
Registering for this year's 3BL Forum is free, and we look forward to "seeing" you.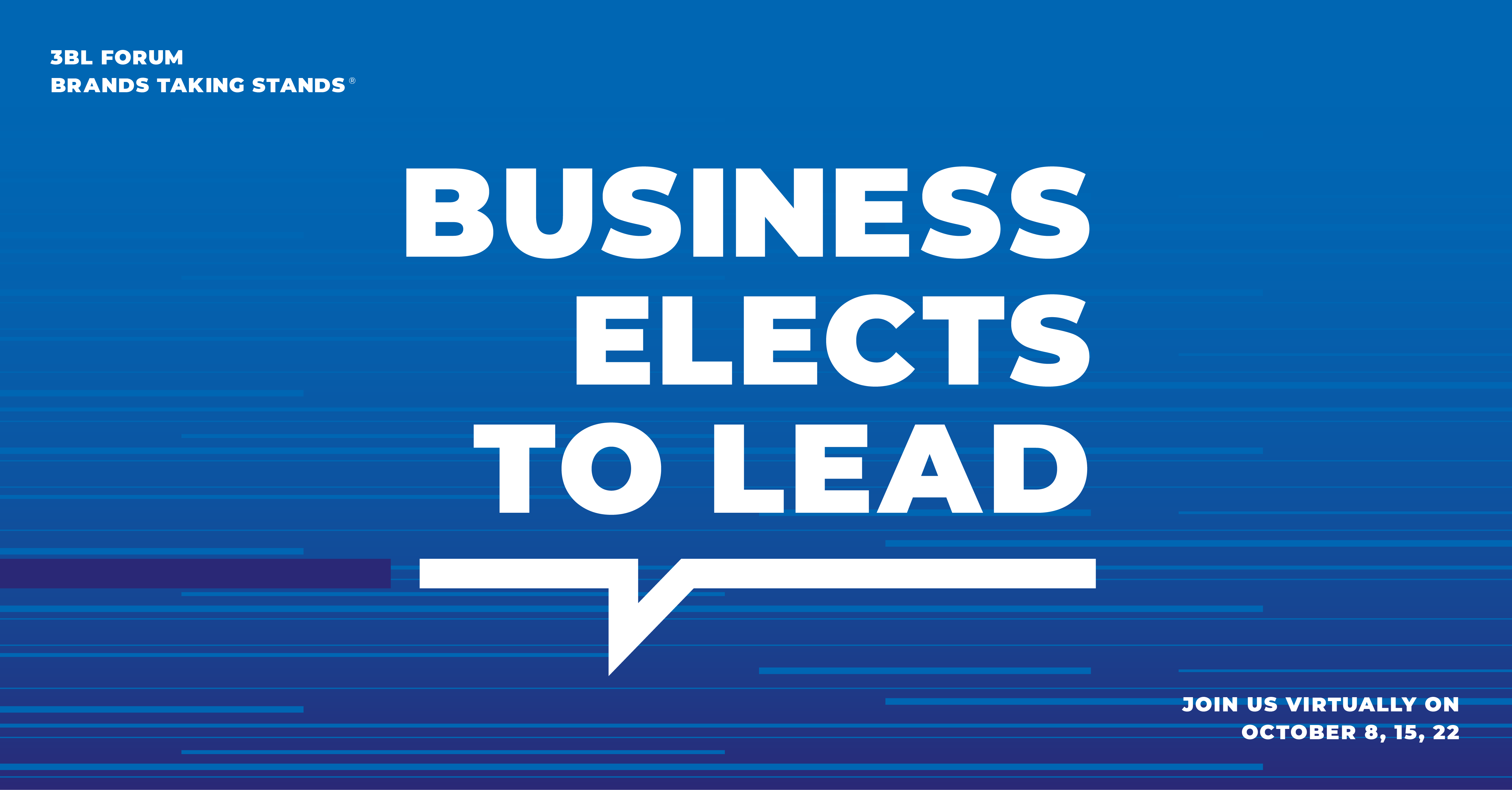 Image credit: Noah Pederson/Unsplash